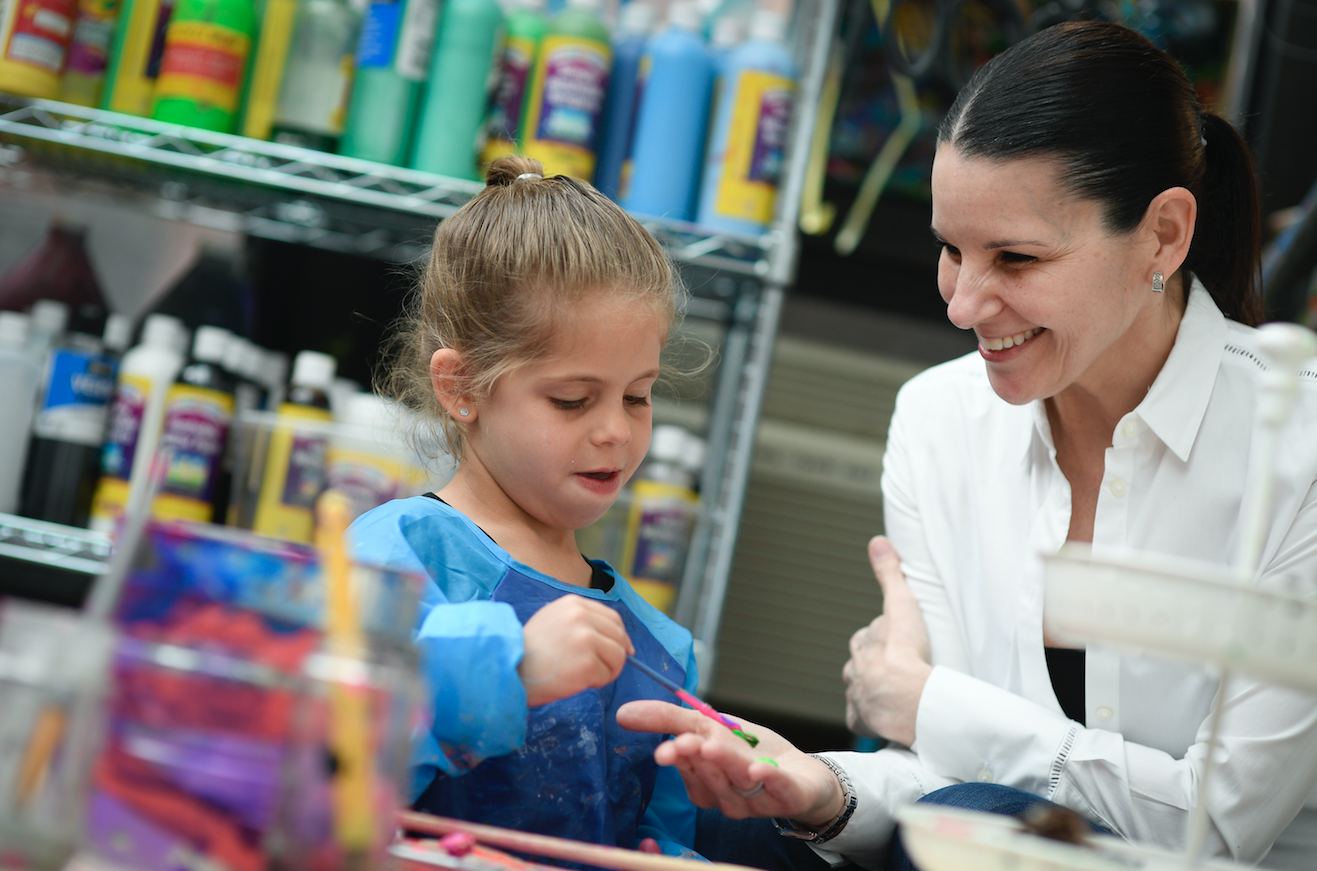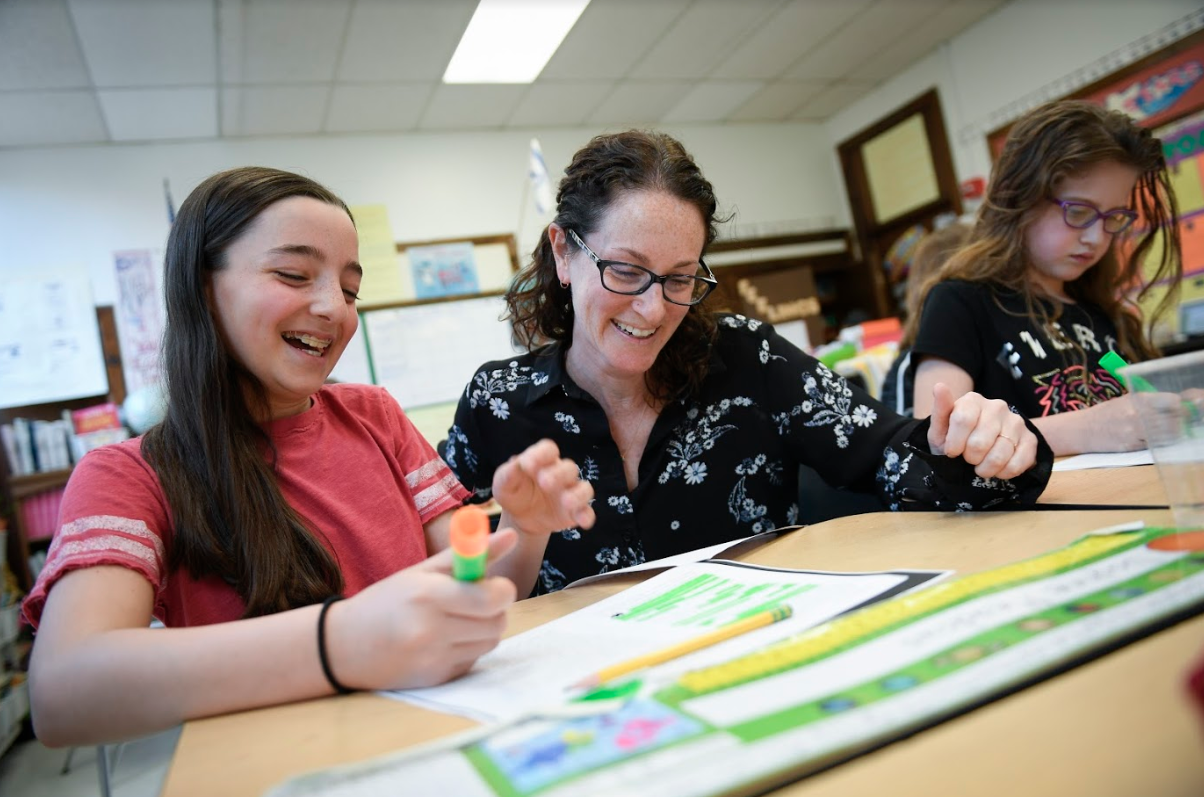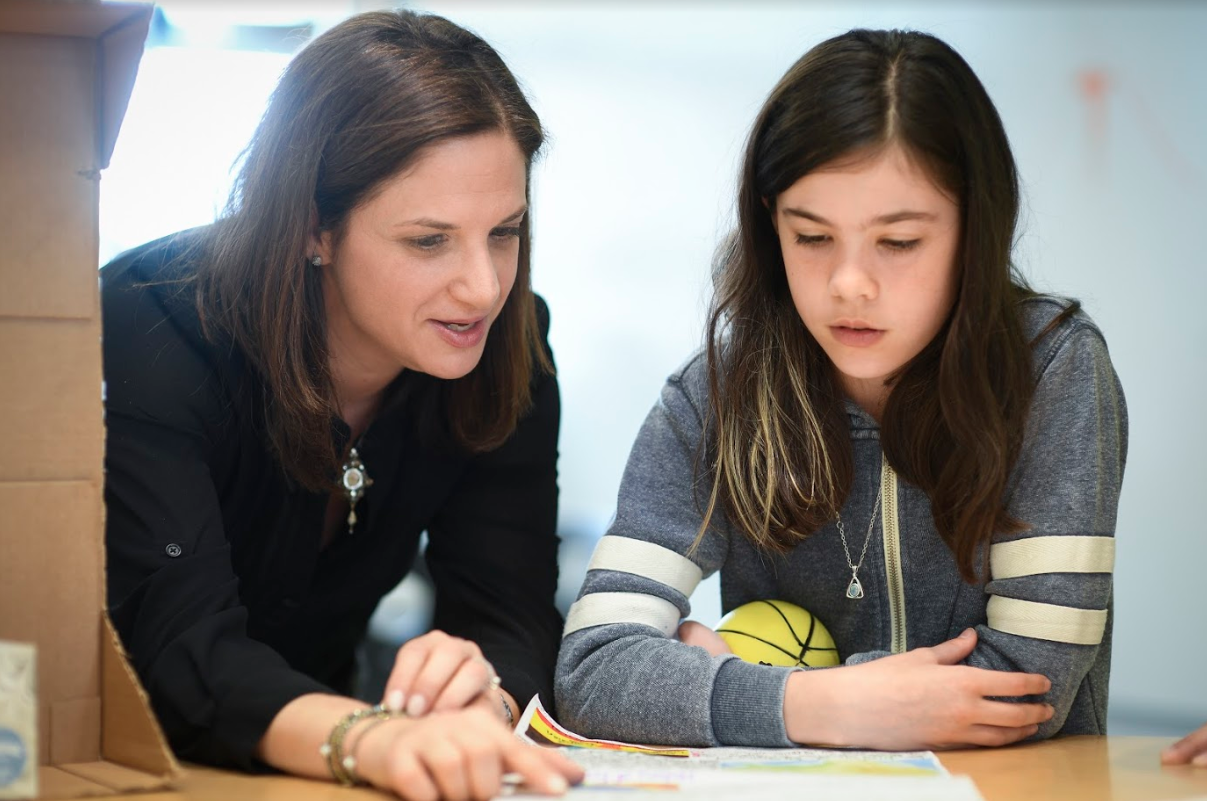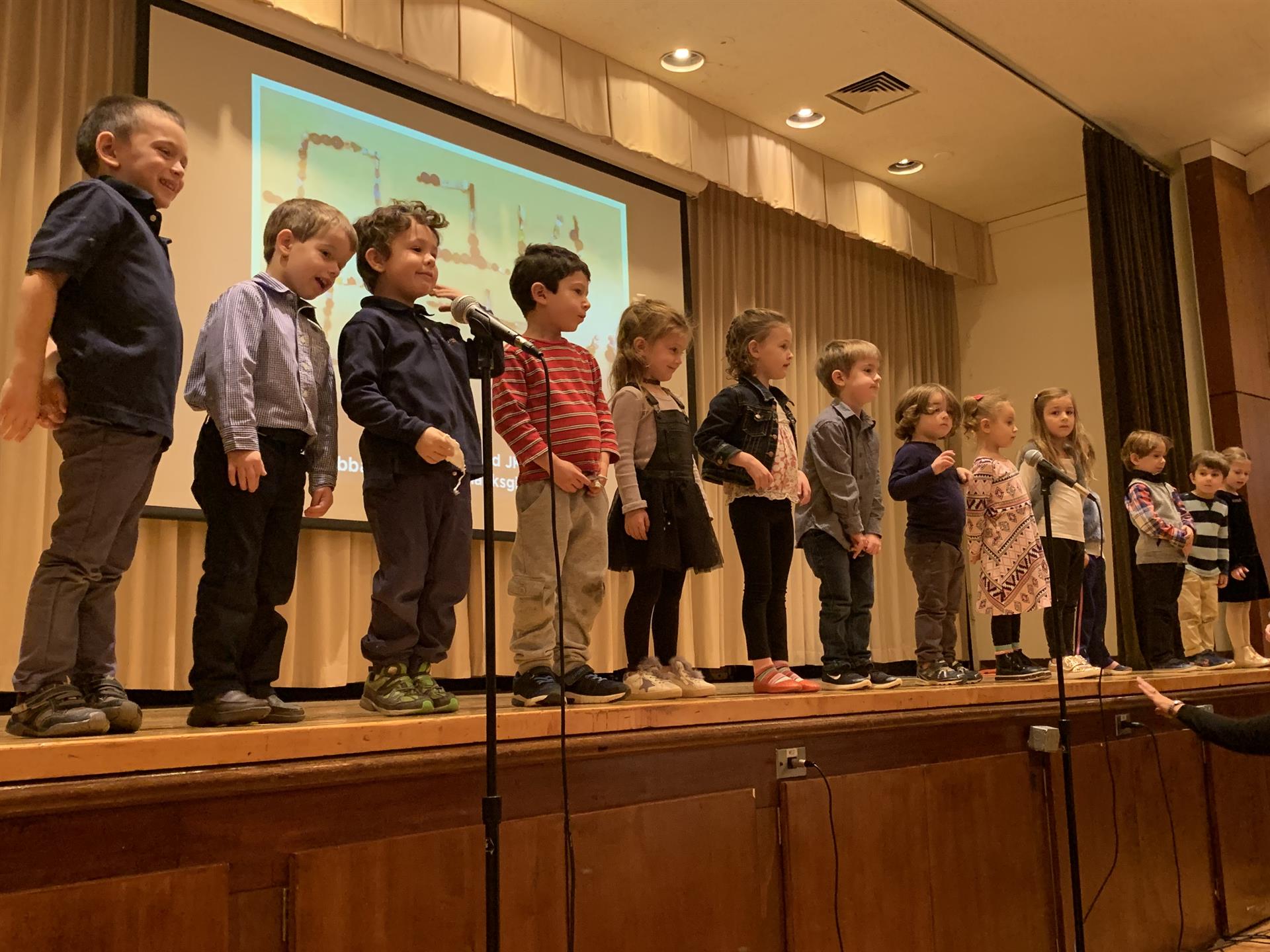 Nursery and JK Celebrate Shabbat and Thanksgiving 
On Friday, the Nursery and Junior Kindergarten celebrated a Shabbat B'Yachad with their families and loved ones. The children took to the stage to perform songs of peace, love, family, hope, and gratitude.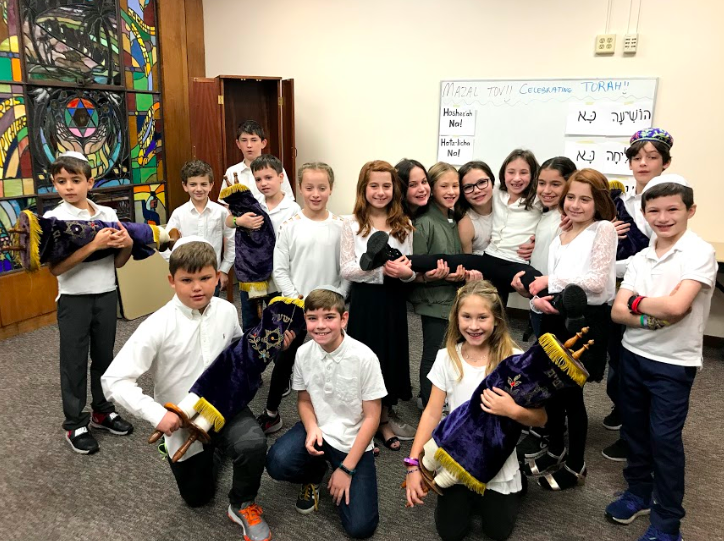 3rd and 4th Grades Explore Jewish Texts and Travel to Local Synagogues
 
 In 4th grade, students had their annual "Standing at Sinai" program during which students learned how to navigate the Tanach, explored biblical characters and began to learn Parashat Lech-Lecha. 3rd grade students are in the midst of the fascinating Synagogues-Around-the-World unit. They researched historical synagogues, visited several local synagogues and started to build their own models.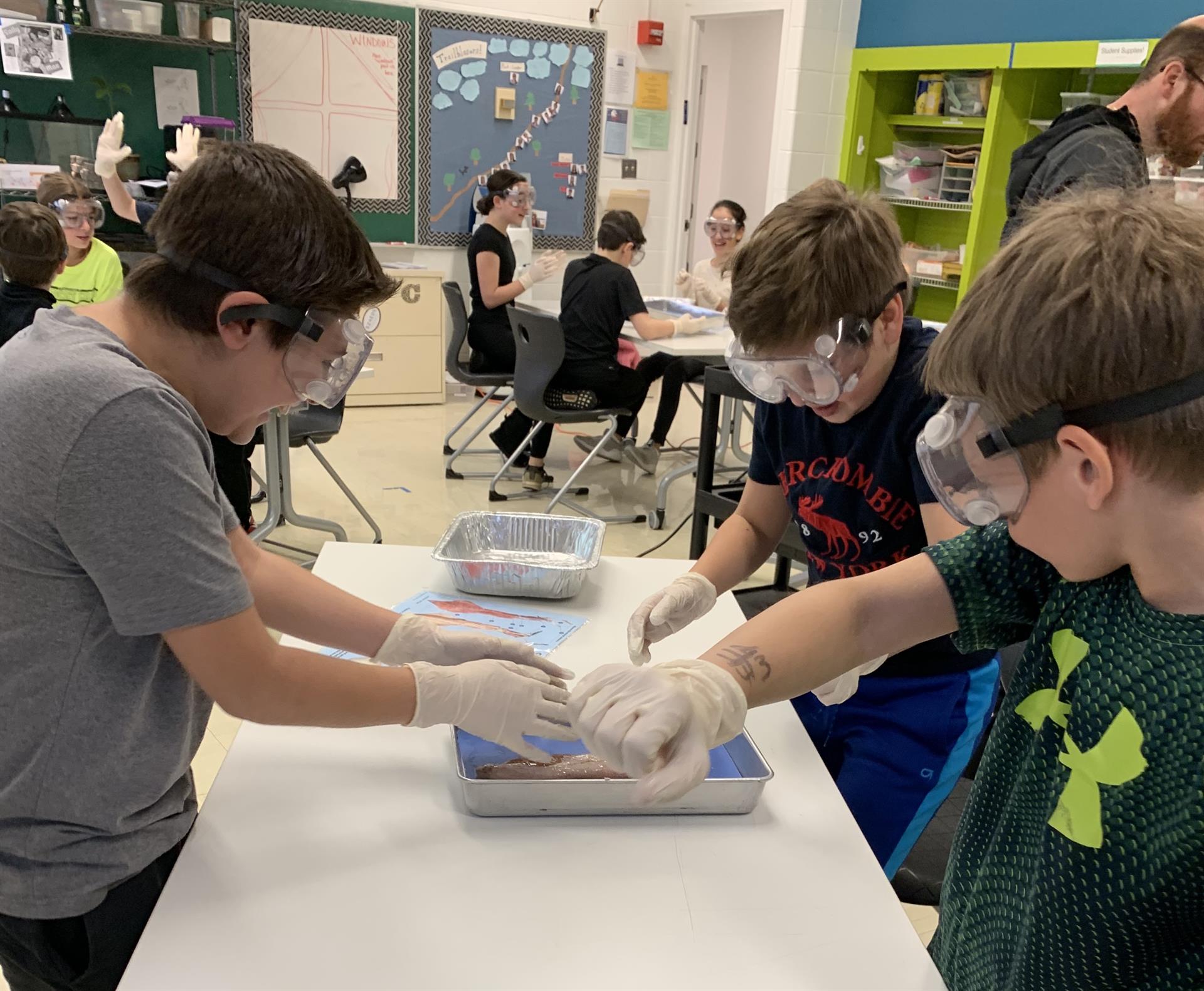 5th Grade Squirms With Squids
5th graders dissected fresh squid this week to examine the evolution of invertebrate animal body plans, as part of their Life Over Time unit. Some favorite moments included cutting into the body mantle to reveal the internal organs, watching the contents of the ink sac dissolve in a beaker of water, discovering squid stomachs filled with...other squid, and removing the lens of the eye. We have several budding medical professionals in this group of students!
Announcing Gary Weisserman, Incoming Head of School 

It is with great pride and excitement that we announce Mr. Gary Weisserman as Head of School for Bernard Zell Anshe Emet Day School effective July 1, 2019! Gary notes, "As someone whose own life was profoundly shaped by a Jewish day school, I understand how incredibly impactful a place like Bernard Zell can be. This is indeed a special place, and I consider myself truly fortunate to have the opportunity to lead it." 
View a Message From Gary Weisserman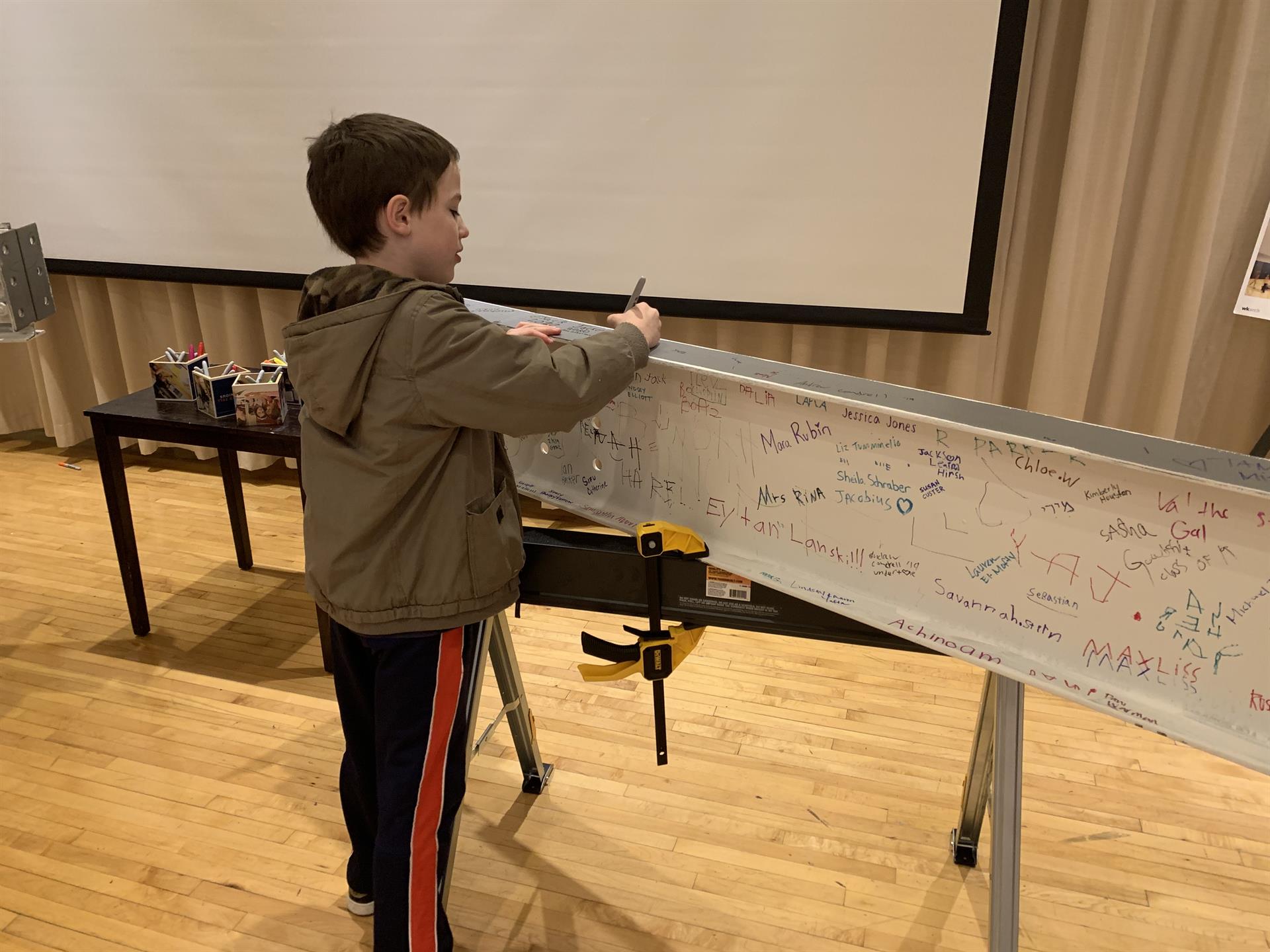 Beam Signing Comes to Blum
It was out with the shovels and in with the Sharpies this week for our students, faculty and staff who were given the opportunity to sign their names on two steel beams and leave their mark on Bernard Zell and the future. The beams, 11' feet long and both weighing approximately 200 pounds, will be located in the 4th floor stairwell of our new facility.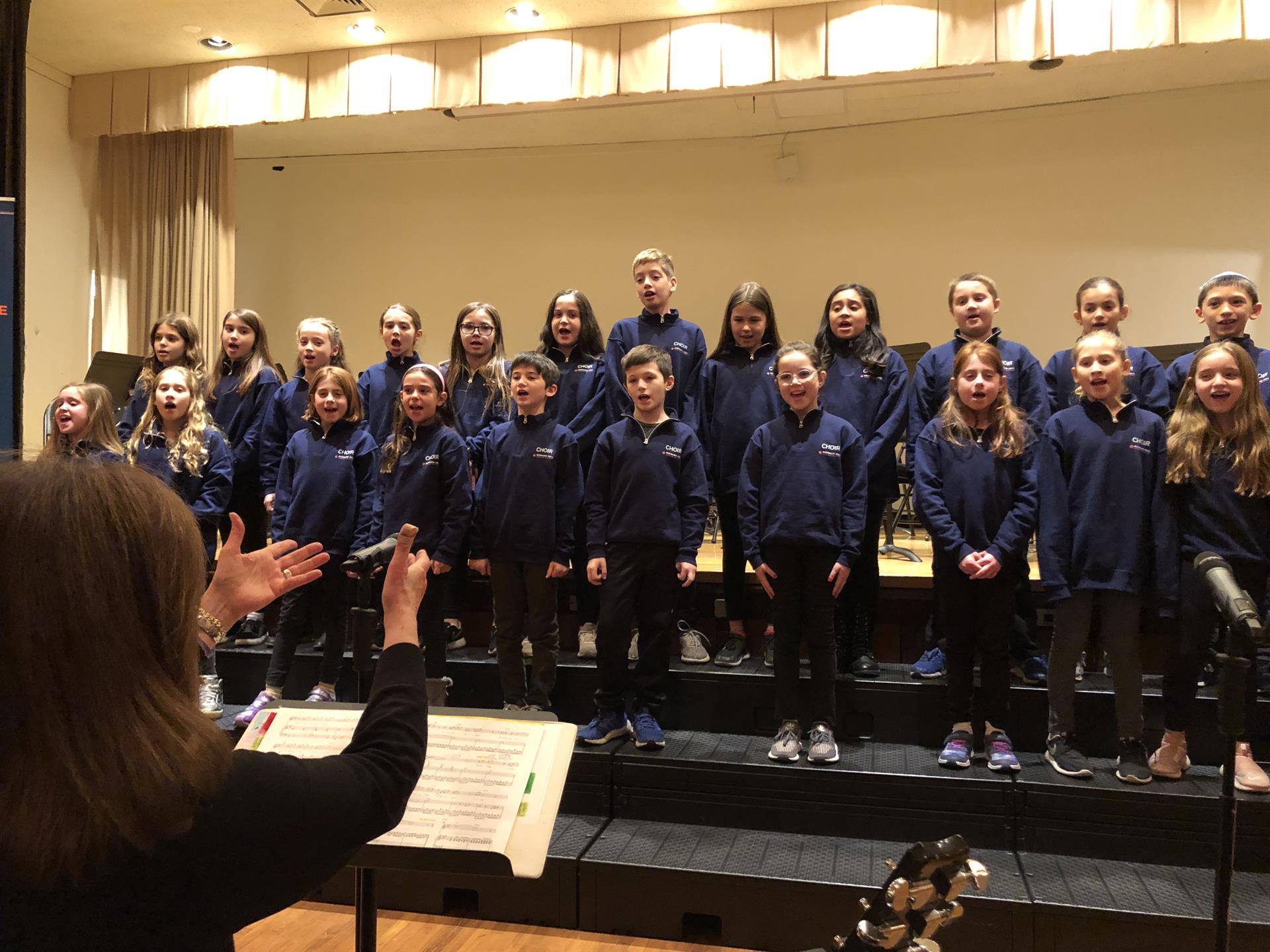 2018 Fall Choir and Band Concert
Last Wednesday, all of the BZ choirs and bands came together for an evening of music. The choirs performed songs about peace and unity including BZ Choir singing A Million Dreams and BZ Harmony singing What About Us. In addition, there was a poignant and meaningful performance by the One Voice Choir singing Tree of Life by Nefesh Mountain, that was written to commemorate the tragedy in Pittsburgh.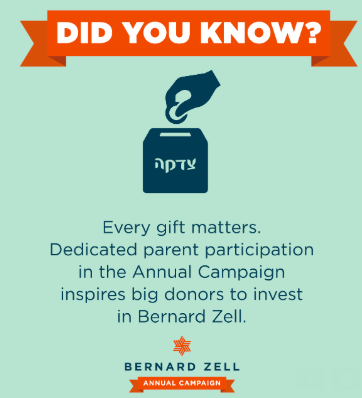 We are off to a great start having raised over $592,000 from our families. Please join the 131 families who have already made their gift and help us reach 100% parent participation. Because of your support, the Annual Campaign impacts our school and students in so many meaningful ways. Every gift matters. You can make your donation by clicking here or contacting Rachael Fenton in the Development Office. Please follow the link below to see a listing of our donors and the participation by grade.
Project Winter Warmth
Last Sunday, Bernard Zell families participated in JCFS & JVS Project Winter Warmth. Volunteers helped families in need by shopping for jackets, snow pants, boots, hats and gloves. Their enthusiasm, teamwork and flexibility will impact over 70 families!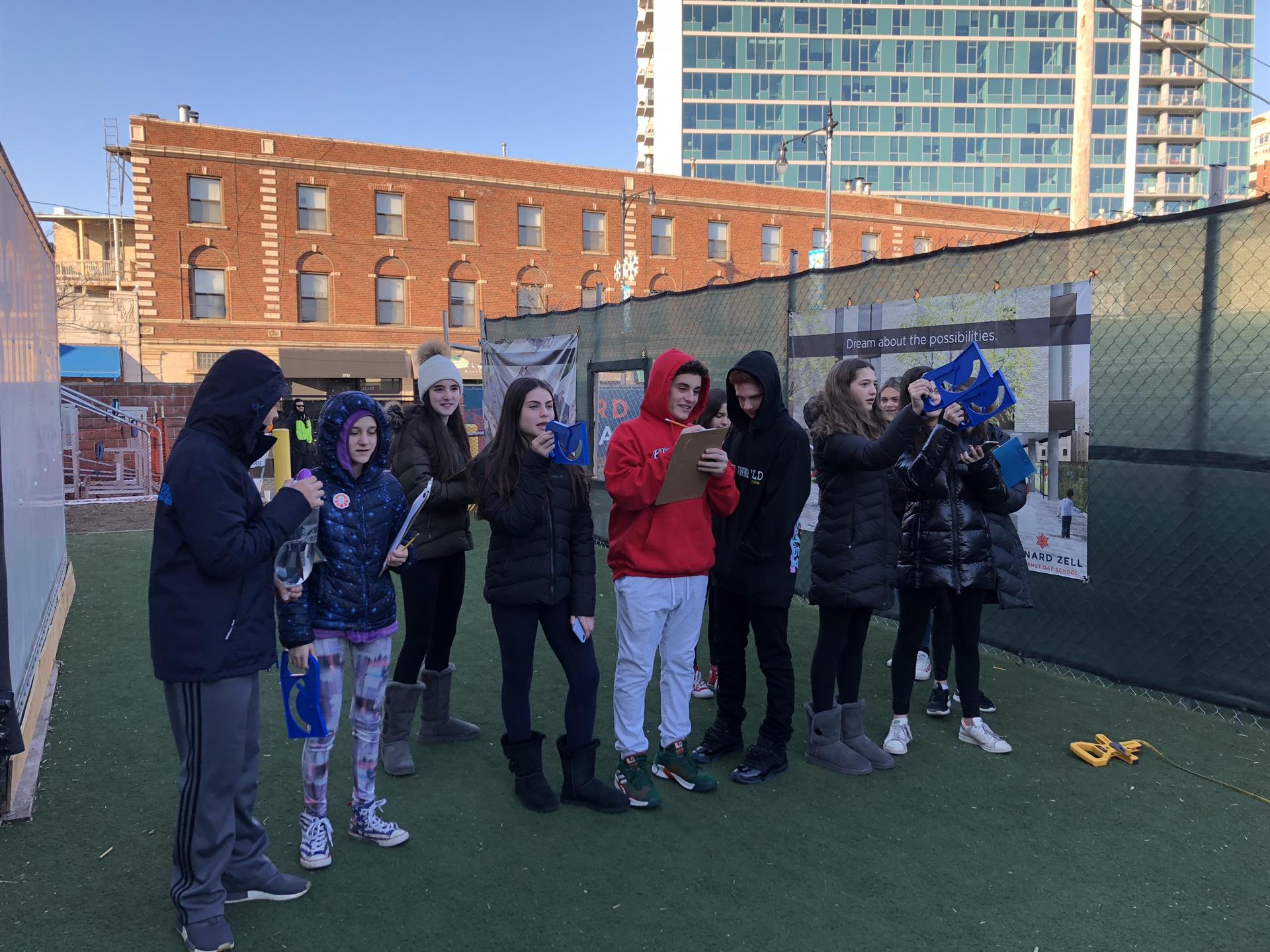 8th Grade Rocket Launch!
As part of the 8th grade physics unit, students were challenged to design and build a rocket that will fly as high as possible while safely landing a payload (raw egg). Over the past 12 weeks the 8th grade has been practicing iterative design while learning Newton's laws of motion and key concepts in rocket science. The launches were a huge success with the highest flight being over 80 feet!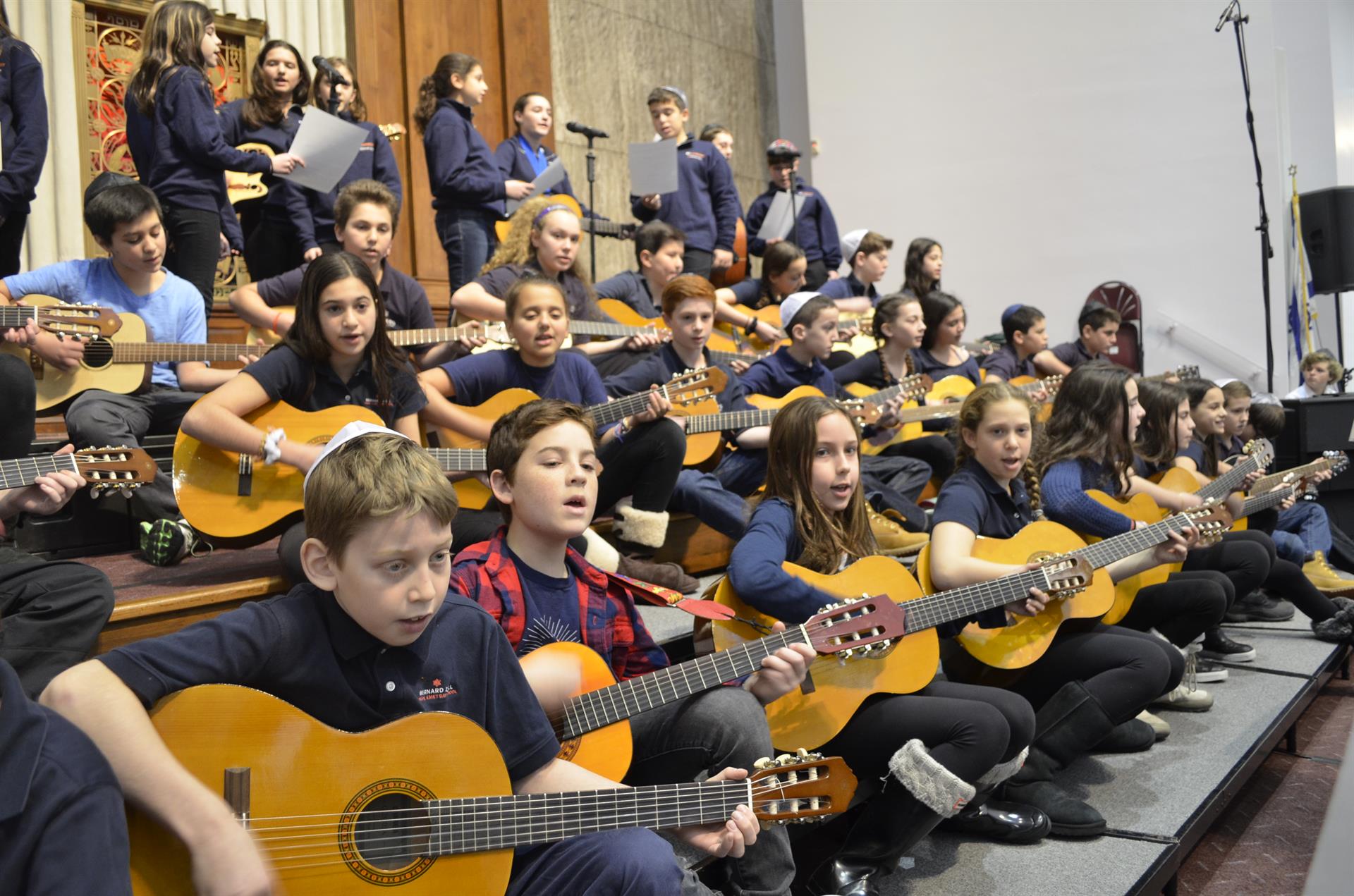 Leona Molotsky Hanukkah Music Festival
The 2018 Hanukkah Music Festival will be held Friday, December 7. Tickets will go on sale on Thursday, November 29. Each Bernard Zell family who plans to be in attendance will have the opportunity to reserve up to two assigned seats in the sanctuary (selected by the family). This number is based on anticipated attendance. If additional tickets are available after these initial releases, an opportunity to reserve more seats will be available on Monday, December 3 at 9:00 a.m.
 Tickets will be released according to the division of the youngest child:

Early Childhood (N-SK): 10:00 a.m.
Lower School (Grades 1-4): 10:30 a.m.
Middle School (Grades 5-8): 11:00 a.m.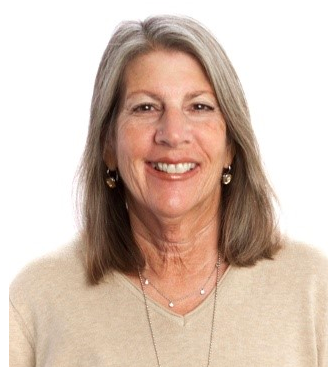 Send a Meal to Ms. Wex
Thank you, Bernard Zell family, for your support of Ms. Wex! The Meal Train created by our PTC Chesed Committee has now been extended until December 31.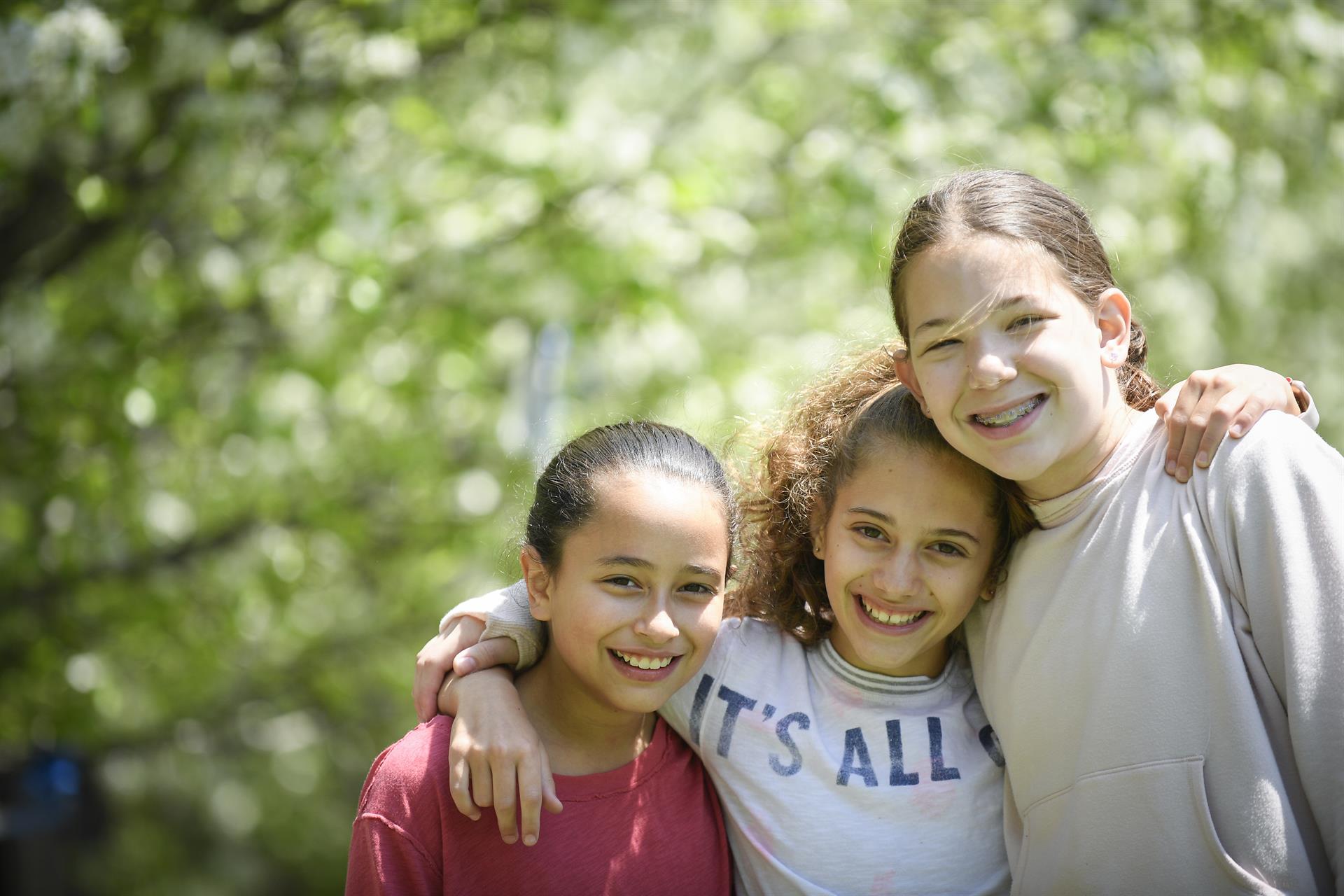 Mazel Tov From Our Community
Mazel Tov to Librarian Rena Citrin on the birth of a new granddaughter!
Mazel Tov to Elena Schwartz for becoming a Bat Mitzvah on November 17, 2018!

 Mazel Tov to Ruby Golding, who will become a Bat Mitzvah on December 1, 2018!  

Mazel Tov to Estie Katz, who will become a Bat Mitzvah on December 1, 2018!

Mazel Tov to Zoe Levitt, who will become a Bat Mitzvah on December 8, 2018!  
All Families: Monday, November 19 | PTC Holiday Shopping Entertainment Book Pre-Sale (Learn More)
All Families: Monday, November 19 | Parent Teacher Conferences 4:00 - 8:00 p.m. (No After School Programming) (Sign-Up for Babysitting)
All Families: Tuesday, November 20 | Parent Teacher Conferences 7:30 a.m. - 8:00 p.m. (No School) (Sign-Up for Babysitting)
All Families: Wednesday, November 21 - Friday, November 23 | Thanksgiving Break (No School)
Alumni and Alumni Families: Tuesday, November 27 | Giving Tuesday - Join the Annual Campaign team and help raise money for Bernard Zell (Learn More)
All Students: Wednesday, November 28 | Picture Retake Day
All Families: Monday, December 3 | Planned Giving Webinar - Join us for a lunchtime webinar to learn about leaving a legacy through planned giving
All Families: Wednesday December 5th - Friday December 7th | Bernard Zell Winter Book Fair (Sign-Up to Volunteer)
Nursery - 1st Grade Families: Wednesday, December 5 | Intergenerational Hanukkah Program (RSVP Here)
All Parents: Thursday, December 6 | PTC Meeting 8:15 - 9:15 a.m. in Rose Crown
All Families: Friday, December 7 | Hanukkah Music Festival 8:00 - 11:00 a.m. in the Sanctuary (Tickets On Sale Thursday, November 29)